MICROSOFT Teams Integration
ORENCloud is the first of kind in Malaysia that provides the most flexible interconnect with Microsoft Teams to make and receive PSTN calls such as landlines, mobile or vanity numbers directly with your Microsoft Teams Enterprise account. 
Make and receive calls within Malaysia and globally with ORENCloud WithTeams.
ORENCloud provides a flexible monthly per-user plan to make Microsoft Teams Enterprise account even more "productive" by enabling calling in and out to landlines, mobile and other vanity numbers. You can now transform Teams a full business telephone through ORENCloud's WithTeams.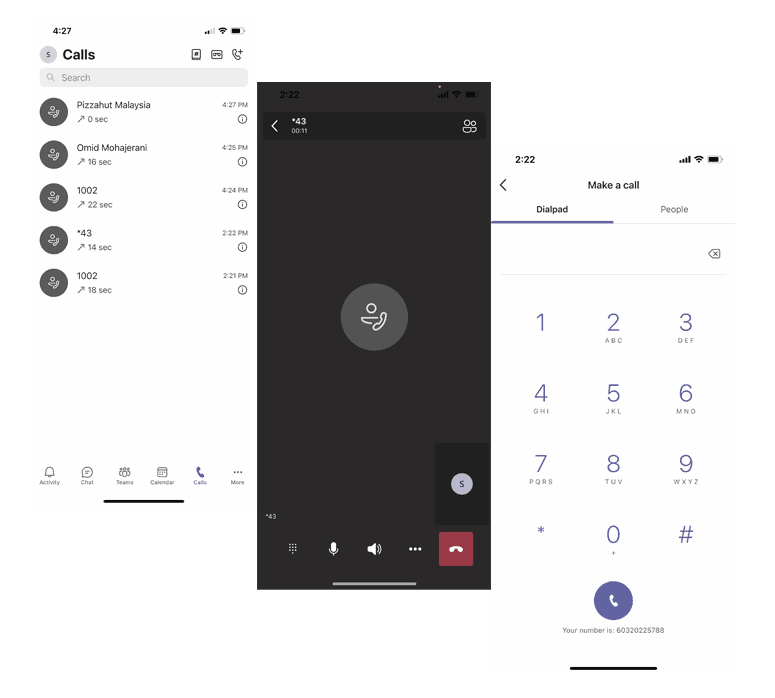 Connect Teams to your office PBX
If you wish to retain your corporate numbers, we can mask them to match your corporate identity or even integrate it with your office telephone/PBX through the use of our on premise gateway and PSTN-enable your Microsoft Teams Enterprise account. 
No frills, only what you need
Unlike many providers, we do not require you to replace your entire investment or existing subscriptions to other cloud telephony providers to enjoy PSTN calling in Teams Enterprise. We can integrate with just about any modern or traditional system and it's just that cost and nothing more.
Dare mighty things
Using Microsoft Teams Enterprise account with ORENCloud, you can enable IVRs, voicemail, call recording, transcribing, add a receptionist module, become a full contact center and many other features with an integrated ORENCloud system.
Usage and offering
We offer a connectivity directly to Microsoft Teams by integrating your Phone Direct with our PBX or we can also perform a Bring Your Own Provider (BYOP) where we setup your Teams to use an existing or new provider of your choice if you do not wish to use our services. This gives tremendous flexibility for you to choose how you wish to make your Teams work for you. There are also no call charges for any inbound calls, only outbound calls (if you use ORENCloud's interconnect) based on the rates here. 
Microsoft Teams integration requires a valid Microsoft Office 365 Enterprise account.
Office 365 Enterprise E3 (including SfB Plan2, Exchange Plan2, and Teams) + Phone System
Office 365 Enterprise E5 (including SfB Plan2, Exchange Plan2, Teams, and Phone System)
A calling plan is not required when using with ORENCloud as we will handle the calls for you. ORENCloud has partnered with several Microsoft Teams value added resellers if you need as well to help you with your Teams and WithTeams integration. Let us know if you need help with Microsoft Teams management to integrate with ORENCloud's WithTeams.
Microsoft Teams is a registered trademark of Microsoft Corporate. ORENCloud, ORENCloud WithTeams, is not affiliated with Microsoft. WithTeams is a registered trademark of ORENCloud Sdn Bhd.